Morning mail: Donald Trump feuds with soldier's widow
Tuesday: Myeshia Johnson insists Trump could not remember her husband's name. Plus: 60% of people who have returned marriage survey say they voted yes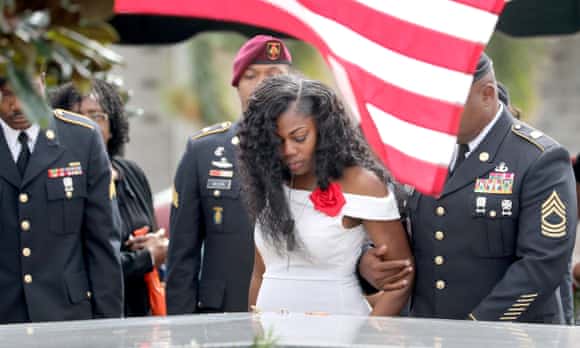 Eleanor Ainge Roy
---
Good morning, this is Eleanor Ainge Roy bringing you the main stories and must-reads on Tuesday 24 October.
Top stories
The widow of Sgt La David Johnson has spoken publicly for the first time about a condolence call from Donald Trump that became a national controversy, saying the conversation "made me cry even worse". She said Trump forgot the name of her husband, one of four US soldiers killed in Niger this month. Trump countered that claim with a tweet, saying he "spoke his name from beginning, without hesitation!"
Nineteen days after her husband was killed in action in west Africa, Myeshia Johnson told Good Morning America about the call she received from Trump. "Very upset and hurt; it made me cry even worse," she said. The president told her in the call last week her husband "'knew what he signed up for'", she said, "but it hurts anyways". She said she was angry at the tone of Trump's voice and that he couldn't remember her husband's name. "If my husband is out here fighting for our country and he risked his life for our country, why can't you remember his name? I didn't say anything. I just listened."
Signs continue to look positive for the yes campaign in the same-sex marriage postal survey, with 60% of people who have returned their ballots saying they have voted for marriage equality. Today's Guardian Essential poll suggests more older people have returned the survey than younger people, with 91% of people over 55 reporting they have voted compared with 60% of people under 35. But not everyone is so confident of the outcome. The former prime minister Kevin Rudd has warned that "conservatives have a phenomenal opportunity to mobilise the agents of fear, anxiety and concern, and to play on deep historical and cultural sensitivities. He says he is "not as buoyant as some in terms of inevitability of this result, or … how convincing it will be".
The apparently unstoppable expansion of dockless bike schemes in Australia goes to a new level this week as the world's largest company in the market releases its first batch of bikes in Sydney. Ofo, which operates 10m bikes around the world, joins three other companies whose 4,000 bikes left on the streets have sparked consternation among Sydney councils and residents. Councils in Melbourne have also threatened to crack down on bikesharing companies, with lord mayor Robert Doyle describing them as "urban clutter".
The blame game continues over electricity prices and energy policy, with Queensland giving the federal environment minister, Josh Frydenberg, a metaphorical kick to the shins over his comments about Annastacia Palaszczuk "gouging" electricity users. The Queensland energy minister, Mark Bailey, told Guardian Australia Frydenberg's criticisms at the weekend were "very strange behaviour for a federal energy minister" who was hoping to persuade the states to sign on to new framework. "Where's his head at?" Bailey said. "One day he says he wants an agreement and then the next he attacks us on spurious partisan political grounds."
Ocean acidification is progressing rapidly around the world, an eight-year study has found, and it can intensify the effects of global warming in a dangerous feedback loop. Acid seas – a byproduct of burning fossil fuels – are becoming more hostile to vital marine life, particularly crustaceans and organisms that create calcified shelters for themselves. Scientists found that as a result Atlantic cod in the Baltic and Barents Sea might be reduced to only a quarter of today's size by the end of the century.
Sport
Everton have sacked coach Ronald Koeman after a dismal start to the season that has left the club third from bottom of the Premier League. The Dutchman was hired on a £6m-a-year contract in June 2016 and led Everton to a seventh-placed finish in his only full season in charge. However, following an investment of almost £140m in players this summer, Everton's form has nosedived.
With the rugby league World Cup around the corner, some unlikely countries are assembling their squads, including Italy's Azzurri – a mix of Australian-born NRL stars, homegrown talent and union converts. Italian is the sixth-most reported ancestry in Australia, and with eligibility rules allowing players to represent their grandparents' nation of origin, Italo-Australians will form the majority of the squad.
Thinking time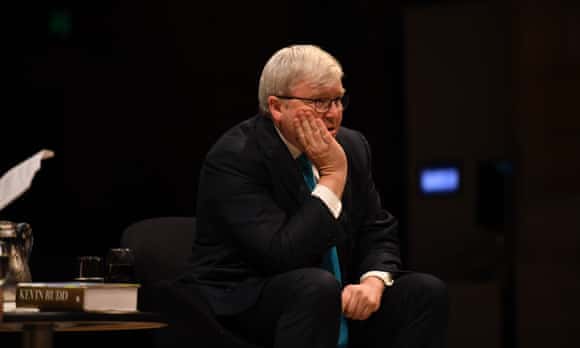 The former prime minister Kevin Rudd launched his autobiography at the University of Sydney on Monday night, to a less than rapturous reception. Michael McGowan reports that the style, the themes and the heroes and villains of Rudd's story were all wearingly familiar. "Like the pompous cousin home for Christmas, Rudd's reappearance ... prompted a conflicting mix of nostalgia, petty boasting and thawed animosities." And this is only volume one.
Women's health is in major need of disruption, writes Heba Shaheed, with too many women suffering from serious pain that has been normalised. Pelvic organ prolapse, incontinence and period pain are all common, but none of these conditions is "normal". "When we tell a woman that her suffering is normal, we take away her right to receive treatment for her pain," Shaheed writes. "We have a collective responsibility to give the woman the best possible chance to recover and live a healthier, pain-free life."
The website Fat, Ugly or Slutty is an archive of the many kinds of abuse directed at women who game online, which is becoming an increasingly toxic cesspool of harrassment. The abuse hasn't stopped in the three years since Gamergate. Are the only solutions for female gamers to pretend to be male, play incognito or stay silent? Meet three women who say there's more that could be done.
Media roundup
The Herald Sun splashes with a story on office sexism, with a top Victorican cop and watchdog saying women continue to be undermined and victimised in the workplace. The Courier Mail revisits the Dreamworld tragedy the day before the official anniversary, and speaks to a mother still grieiving for her two children who died on the Thunder River Rapids ride. And the ABC reports that nurses, dieticians and pharmacists are getting millions of dollars from big pharmaceutical companies for their services.

Coming up
More debate on energy policy and NBN is likely in parliament today, with another round of Senate estimates hearings also scheduled. The former Midhnight Oil frontman and Labor MP Peter Garrett addresses the National Press Club at lunch time.
Guardian Australia launches a new podcast, Common Ground, this morning, bringing together four Australians from different walks of life to discuss politics. We want to find out if it's true that more unites us than divides us in these acrimonious political times.
Guardian News & Media Limited - a member of Guardian Media Group PLC. Registered Office: Kings Place, 90 York Way, London, N1 9GU. Registered in England No. 908396