Morning mail: bigger role for ADF on domestic terrorism
Monday: Turnbull unveils plans to give the Australian defence force greater scope in attacks at home. Plus: Federer win's record eighth Wimbledon, and Jodie Whittaker is first female Doctor Who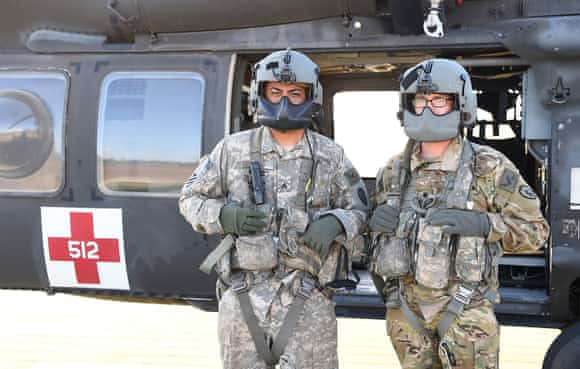 Eleanor Ainge Roy
---
Good morning, this is Eleanor Ainge Roy bringing you the main stories and must-reads on Monday 17 July.
Top stories
The Australian defence force will have greater powers to respond to domestic terrorist incidents under changes unveiled by the federal government. Malcolm Turnbull says the changes will make it easier for ADF personnel to work with federal and state governments and their police forces in the event of a domestic terrorist attack. The move comes after his government initiated a review of the ADF's support to national counter-terrorism arrangements in 2016, after terrorist attacks around the world. He had been hinting for months of plans to strengthen Australia's counter-terrorism regime following the coronial report into the Lindt cafe siege.
"State and territory police forces remain the best first response to terrorist incidents, immediately after an attack starts," Turnbull said. "[But] defence must be able to contribute effectively to domestic counter-terrorism efforts."
Turkey's President Tayyip Erdoğan has announced his government will continue its bloody crackdown on the alleged perpetrators of last year's failed coup attempt, vowing to "cut traitors' heads off". The crackdown has been broadened to include dissidents, journalists and human rights activists, as the country entered its second year since the July 2016 moves to unseat him. Erdogan's uncompromising words, delivered by an apparently buoyant president, suggested no let-up in the divisions that have polarised Turkey. The coup attempt was defeated when thousands of Turks of all political stripes took to the streets to resist the soldiers, at the cost of at least 290 dead and more than 2,100 wounded.
Residents, environmentalists and pastoralists have welcomed a report on fracking in the Northern Territory, which identified risks associated with the industry. The interim report said its "preliminary view" was that the use of surface water for shale gas operations should be prohibited in arid and semi-arid areas and groundwater should not be permitted for use in fracking without proof there would be no adverse impacts. It also said fracking during the Top End's wet season should not be allowed at all because of the potential for storage ponds to overflow. The NT chief minister, Michael Gunner, said the government would make its decision to either ban fracking or allow it in "highly regulated circumstances" once the final report was completed.
The Liberal National party state conference in Queensland has voted to call for headscarves to be banned for children under 10 years old. The vote was denounced by the Queensland Labor government frontbencher Leeanne Enoch, who described the vote as "absolutely appalling". She said: 'We live in a multicultural society … They're talking about what children should wear in schools – that is the dark ages." A resolution calling for the federal government to ban immigration from countries with sharia law was defeated earlier.
Jodie Whittaker has been announced as 13th Doctor Who, the first female to star in the title roll in the history of the series. Whittaker, who rose to fame in ITV's crime drama Broadchurch, had been touted as one of the contenders. Chris Chibnall, Doctor Who's new head writer and executive producer, said: "I always knew I wanted the 13th Doctor to be a woman and we're thrilled to have secured our number one choice. Her audition for the Doctor simply blew us all away. Jodie is an in-demand, funny, inspiring, super-smart force of nature and will bring loads of wit, strength and warmth to the role. The 13th Doctor is on her way."
Sport
Roger Federer has won Wimbledon for a record eight time, a feat that is being described as "superhuman" by his fans, beating Marin Čilić 6-3, 6-1, 6-4. Čilić was hobbled by a painful blister on his foot and broke down in tears during the match. Federer, 36 next month, returned from injury to win both Wimbledon and the Australian Open this year. "It's magical, really," he said. "I just can't believe it yet. It's just too much, really. I kept on believing and dreaming and here I am today for my eighth title. I hope to be back to defend it next year." The Guardian's tennis correspondent Kevin Mitchell writes: "Those were sweet words for his millions of followers, who must secretly wonder when the fairytale will end."
Despite being rocked by controversy and the departure of three senior officials, the AFL is enjoying one of its most compelling seasons yet, writes Jonathan Horn.

Thinking time
Land around Yellowstone national park is preparing for a heated showdown between mining companies anticipating the end of the Obama-era moratorium and fiery locals determined to defend their precious home. In this long read, Elliott D Woods travels to rural Montana, where 350 Montana businesses and organisations have banded together with the goal of blocking new mining permits on the forest service land.

Twenty-three ancient preserved bodies found in Lithuania could hold significant lessons for modern medicine. The bodies were hidden in a crypt under a church altar that had been stripped by Napoleon's army for wood, and used by the Nazis as a makeshift bomb shelter. Now anthropologist Dario Piombino-Mascali is applying an altogether more gentle touch as he attempts to prise out the secrets of its ghostly inhabitants: 23 men, women and children who died in the 17th, 18th and 19th centuries.
Kate Hennessy digs up the best releases you may not have heard in the past three months as part of her Music You Missed column, including songs from folk musician Lindsay Phillips, Buzz Kull's much-anticipated Chroma and new tracks from Kris Keogh, Au.Ra, Julia Reidy, Wolf Shield, Acharné and others.
What's he done now?
Donald Trump has launched a now familiar Twitter blitz overnight on a variety of topics ranging from defending his son Donald Jr to protesters at the US Women's Open golf tournament – attended by the president at the Trump National Golf Club in New Jersey – and his favourie bugbear, "fake news". "HillaryClinton can illegally get the questions to the Debate & delete 33,000 emails but my son Don is being scorned by the Fake News Media?" Trump tweeted. "Thank you to all of the supporters, who far out-numbered the protesters, yesterday at the Women's US Open. Very cool!," he added.
"With all of its phony unnamed sources & highly slanted & even fraudulent reporting, #Fake News is DISTORTING DEMOCRACY in our country!"
Media roundup
Two stories dominate Australian front pages today. The Herald Sun and Canberra Times lead with the death of a mystery woman in a Melbourne apartment during a bucks party. The Age and The Daily Telegraph splash with the sweeping new powers granted to the Australian military, giving them the ability to take charge during terrorist attacks under changes to Australia's national security laws. The ABC has an intriguing podcast and long read, asking if corpses from a destroyed cemetery were really washed down local rivers to Lake Burley Griffin during the 1974 Queanbeyan flood.
Coming up
Justice John Sackar is due to hand down his judgment in the Seven Network v Amber Harrison legal battle after Seven applied for her to pay its legal costs.
It is the third anniversary of the shooting down of Malaysia Airlines flight MH17 over Ukraine, killing all 298 on board including 38 Australian citizens and residents. Many families of Australian victims are expected to attend the opening of the national MH17 monument near Schiphol airport in Amsterdam as part of events to mark the anniversary.
Support the Guardian
It might take a minute to catch up on the news, but good journalism takes time and money. If you already support Guardian Australia, your generosity is invaluable. If not, and you value what we do, please become a Supporter today. Thanks.
Guardian News & Media Limited - a member of Guardian Media Group PLC. Registered Office: Kings Place, 90 York Way, London, N1 9GU. Registered in England No. 908396