Morning mail: Iraqi forces declare victory over Isis in Mosul
Monday: Iraqi PM says Isis has been driven out of the city after nine months of bitter fighting. Plus, modelling shows a tighter clean energy target would reduce prices further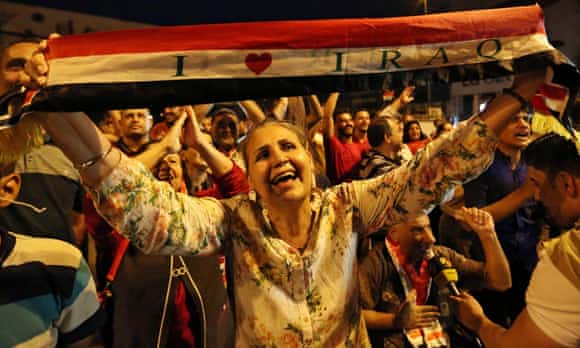 Eleanor Ainge Roy
---
Good morning, this is Eleanor Ainge Roy bringing you the main stories and must-reads on Monday 10 July.
Top stories
Iraq's prime minister, Haider al-Abadi, has declared victory over Islamic State forces in Mosul after nearly nine months of bitter fighting to displace the extremist group from the city, now a shadow of the thriving hub seized in 2014. Thousands have died, nearly a million residents have fled, and swaths of the city have been reduced to ruins during the gruelling campaign, including the ancient al-Nuri mosque and minaret. Victory in Mosul is both a strategic and symbolic milestone for Iraqi fighters, backed by US-led coalition forces, and sparked joyful celebrations across the country.
The city had been the last major urban stronghold Isis held in Iraq, and defeat there pushes the group back towards its insurgent roots, leaving the militants with just a handful of towns and stretches of sparsely populated desert under their control. In the past few days thousands of civilians have emerged from the city seeking help – wounded, malnourished and fearful after months effectively under siege. Islamic State's remaining urban centre is the Syrian city of Raqqa, also under heavy pressure from US-backed forces and expected to fall soon. But being forced out of the cities of Iraq and Syria, while a blow to the group, will not mark its total defeat.
The more ambitious a clean energy target is, the lower Australian wholesale electricity prices will be, new modelling indicates. The energy analysis firm RepuTex modelled the effect of a clean energy target that cut emissions from the electricity sector by 28% – like that modelled in the Finkel Review – as well as one it said would achieve Australia's Paris commitment to keep global warming to below 2C, which would cut emissions from electricity by 45% below 2005 levels by 2030. It found both scenarios caused wholesale prices to drop significantly compared with doing nothing, but the more ambitious target resulted in lower prices between 2025 and 2030.

Who is Chris Uhlmann? US commentators found themselves hitting Google on Sunday after the veteran ABC political editor went viral with an excoriating analysis of Donald Trump's contribution to the G20 conference in Hamburg. Speaking to the ABC's Insiders program on Sunday, Uhlmann said Trump had shown "no desire and no capacity to lead the world" and was himself "the biggest threat to the values of the west". Uhlmann said Trump was obsessed with "burnishing his celebrity" and had "diminished" his own nation to the benefit of Russia and China. "We learned that Donald Trump has pressed fast-forward on the decline of the United States as a global leader. He managed to isolate his nation, to confuse and alienate his allies and to diminish America."
Malcolm Turnbull has said he wanted a G20 statement condemning North Korea but it was not to be. The PM said "nobody" around the table was defending Pyongyang's missile test, it was just that a statement "was not able to be achieved". But he defended the leadership of Donald Trump, saying his mere presence in Hamburg proved the US was still a global leader.
The RSPCA is calling for the Australian government to implement a pre-emptive ban on the live export of donkeys. The Northern Territory government is considering the potential of an expanded donkey market after a discussion paper published by its Department of Primary Industry and Resources said the government "supports the development of a profitable donkey industry in principle". Feral donkeys are considered a pest in the Northern Territory, while demand for donkey skins has surged in China owing to the use of their gelatin in alternative medicines and cosmetics.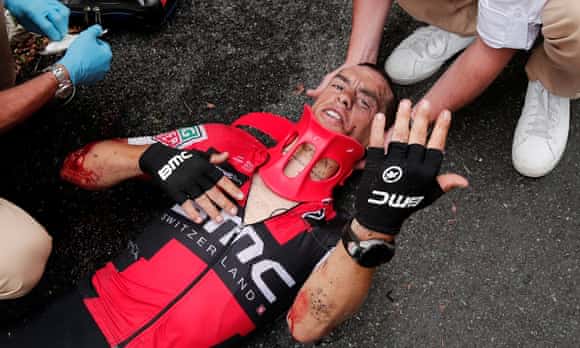 Sport
Australian Richie Porte has had to quit the Tour de France after a terrible crash during the ninth stage from Nantua to Chambéry. Porte was taken to hospital with head and pelvis injuries after losing control and smashing into a rock wall on a fast descent, but the race doctor said he had not lost consciousness and his condition did not appear to be serious. Chris Froome kept the yellow jersey but also lost his key team-mate Geraint Thomas with a broken collarbone.
England beat Australia by three runs in a nerve-jangling finish at the cricket World Cup in Bristol, firing up a tournament that so far has provided only occasional highlights. England posted 259-8 and Australia fell just short in the chase despite 70 from Ellyse Perry. England's first World Cup win over Australia in 24 years leaves both countries, and India, with four wins and one defeat.
With just two games separating fourth and 12th in a topsy-turvy AFL season, inconsistency has been the only constant, writes Craig Little. Richmond's "lacklustre and embarrassing football" in Saturday's defeat by St Kilda left their fans with a familiar numb feeling.
Thinking time
"Whatever the opposite of binge watching is, I have found it," writes Brigid Delaney. "Watching Channel Seven's reality show Yummy Mummies took four days. I kept having to pause it, take it in little sips. At the same time I binged on about five hours of The Handmaid's Tale in one night, and by the end was having trouble distinguishing which society is really 'free'."
When Walmart came to the rural backwater of McDowell County, West Virginia, it signalled a sliver of hope for this poverty-stricken region with high unemployment and endemic ill-health. And when it shut its door for the final time 10 years later, these proud country folk felt bereft. Ed Pilkington explores the aftermath amid a sea of lost jobs and broken promises.
After five years as the Guardian's Latin America correspondent, Jonathan Watts looks back on the guns, political turmoil and hummingbirds of his time there. "One of the reasons I moved from China to Brazil to become Latin America correspondent in 2012 was to look for a more sustainable development model. Back then, Brazil seemed to be doing a lot of things right. Its booming economy had just overtaken that of the UK; the popular leftwing government was reducing inequality; deforestation of the Amazon was slowing … we were all in for a shock."
Media roundup
The Daily Telegraph says NSW prison bosses are holding crisis meetings after a high-security prisoner high on ice uploaded a video to YouTube showing-off his stash of narcotics, as well as a large knife and razor blade. The Fairfax papers splash with an exclusive interview with Christine Cabon, the spy who gathered reconnaissance on the Greenpeace ship Rainbow Warrior by posing as an environmental activist. She fled New Zealand just before the ship was bombed 32 years ago and disappeared from public view. Speaking from the south of France, she said she was not sorry for her actions, which resulted in the death of the freelance photographer Fernando Pereira. And the ABC reports that the mother of the British traveller Mia Ayliffe-Chung, stabbed to death in a backpackers hostel, has arrived in Australia to lobby the government to make the farm work scheme safer for young travellers. She appears on Australian Story tonight.
Coming up
The NSW bureau of crime statistics will release its report on Indigenous imprisonment today. And the UK inquiry into the abuse of children shipped to Australia and elsewhere resumes in London.
Guardian News & Media Limited - a member of Guardian Media Group PLC. Registered Office: Kings Place, 90 York Way, London, N1 9GU. Registered in England No. 908396