Brexit weekly briefing: snap polls don't always strengthen your hand
Britain's early general election could in fact help avoid cliff-edge or harsh exit from EU, but ask Greece about strong electoral mandates changing minds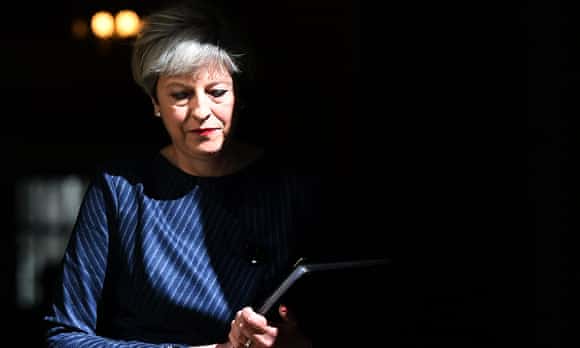 Jon Henley
---
Welcome to the Guardian's weekly Brexit briefing, a summary of developments as the UK heads towards the EU door marked "exit". If you'd like to receive it as a weekly early morning email, please sign up here.
A quick heads-up: the latest episode of Brexit Means, the Guardian's Brexit podcast, is now live. Brexit editor Dan Roberts joins me to discuss the implications for Brexit of Theresa May's decision to call a snap election. You'll find it here.
And this: producing the Guardian's independent, in-depth journalism takes a lot of time and money. We do it because we believe our perspective matters – and it may well be your perspective too. If you value our Brexit coverage, become a Guardian Supporter and help make our future more secure. Thank you.
The big picture
After months of firmly denying there was any possibility of an early poll, the prime minister announced a snap election for 8 June. What might this mean for the Brexit process?
May of course gave Brexit as her reason, saying opposition parties were jeopardising the government's preparations and a general election was the "only way to guarantee certainty for the years ahead".
Assuming she wins – which polls indicate she should, comfortably – a larger Tory majority would, in theory, would help May push through a "clean" or "hard" Brexit by allowing her to claim she had an electoral mandate to "take back control" of the UK's borders, laws and budget rather than preserve trade.

But a harsh Brexit may well now be less probable, because a big parliamentary majority would also give May more leeway to back down a little on a some of the EU's more non-negotiable demands because the opposition of the hardline Brexiters inside the Conservative party would carry relatively less weight.
What's more, a June vote means the next UK election will now be in 2022 – giving May both a stronger negotiating position and a far more comfortable deadline for arranging a transition period, avoiding a cliff-edge exit, and negotiating an acceptable trade deal with the bloc.
On the other hand, strong electoral mandates do not always help when it comes to EU negotiations. Look at Greece's Alexis Tsipras: he won a referendum and a snap election convincingly in 2015, and found neither any help in changing the bloc's attitude to the austerity policies it was demanding of Athens.
The view from Europe
The EU27 said it did not expect its Brexit playbook to be affected by the vote: European council spokesman Preben Aamann said negotiating guidelines should be adopted on 29 April and concrete directives on 22 May.
This would allow the two years of talks between the European chief negotiator, Michel Barnier, and the UK government to start as soon as Britain was ready. Donald Tusk, president of the European council, said he had had "good phone call" with May about her general election announcement.
Guy Verhofstadt, the European parliament's Brexit coordinator, said the election was "an internal affair" but represented "an opportunity for UK citizens to express themselves on how they see the future relationship".
Behind the platitudes, it is probable that if the prime minister does strengthen her domestic position – as seems highly likely – before the talks, the EU27 will only be more determined to ensure Brexit does weaken the bloc's single market.
Gianni Pittella, the leader of the socialist bloc in the European parliament, said May was "exploiting Brexit to strengthen her political grip within her party and the country", describing the move as "immoral in a way" and "unacceptable".
Meanwhile, back in Westminster
Labour leader Jeremy Corbyn said he welcomed the snap election but several of his MPs reacted with anxiety, as dozens are at risk of losing their seats and a number are considering standing down before the contest.
The party, which has boosted its policy proposals recently but still trails the Conservatives by as much as 20 points in some polls, will call an emergency national executive committee meeting to draw up plans.
The Liberal Democrats, fiercely opposed to a hard Brexit, hope to gain dozens of seats from Labour and the Tories in London and the south-west. Lib Dems said their party had gained 1,500 new members within an hour after May's announcement.
Lib Dem leader Tim Farron said the election would be voters' chance to change the direction of the country:
If you want to avoid a disastrous hard Brexit, if you want to keep Britain in the single market, if you want a Britain that is open, tolerant and united, this is your chance.
With no MPs, Ukip faces a fight against the electoral system but also to maintain a role. The former party donor Arron Banks has said he could try to unseat Douglas Carswell, MP for Clacton who left the party in March.
You should also know ...
Read these
In the Guardian, Jonathan Freedland argues that while it is customary to call a snap election a "gamble", May's decision is really anything but – because as far as Brexit is concerned it will allow the prime minister to "set out her own stall, knowing what most gamblers can never know – that she is almost certain to win". Freedland adds:
Brexit will now have a double mandate. Not content with the referendum of 2016, May has decided to buttress that verdict with a general election victory. She will claim the anticipated win on 8 June as an endorsement of her Brexit strategy. Remainers will have to face the fact that quitting the EU will have been approved by the British people twice in a single year.
Patrick Wintour makes a similar point in relation to the way Brexit will now be perceived by EU leaders on the continent:
Among parts of the EU leadership there remains a lingering belief that the British people can be helped to change its mind ... If May wins a large Commons majority, that hope will be dashed. UK officials believe this will lead the EU not to play games, but to accept the best solution is to reach a mutually agreeable long term trading relationship.
Tweet of the week
A good thread from the University of Surrey's Simon Usherwood:
Main #Brexit effects of #GE17:

1) pushes next GE out to 2022, so Brexit transition near end + more time to soften any econ blow.

— Simon Usherwood (@Usherwood) April 18, 2017
Guardian News & Media Limited - a member of Guardian Media Group PLC. Registered Office: Kings Place, 90 York Way, London, N1 9GU. Registered in England No. 908396