Morning mail: 'I love it' – Trump Jr's damning emails on Russia links
Wednesday: US president's son releases emails showing he embraced what he was told was a Russian government attempt to damage Hillary Clinton's election campaign. Plus: warning over damage caused by land clearing in Queensland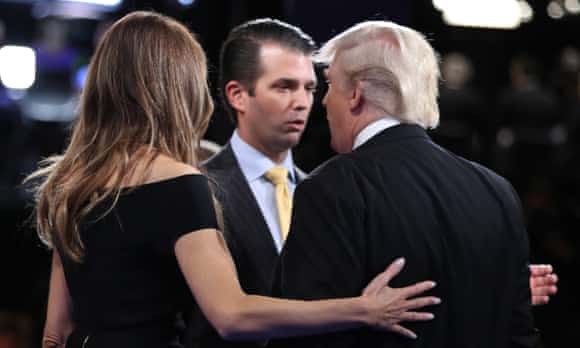 Eleanor Ainge Roy
---
Good morning, this is Eleanor Ainge Roy bringing you the main stories and must-reads on Wednesday 12 July.
Top stories
Donald Trump Jr has been forced to release emails that reveal he embraced what he was told was a Russian government attempt to damage Hillary Clinton's election campaign. The emails show the music promoter Rob Goldstone telling the future US president's son that "the crown prosecutor of Russia" had offered "to provide the Trump campaign with some official documents and information that would incriminate Hillary and her dealings with Russia and would be very useful to your father". Trump Jr quickly responded: "If it's what you say, I love it, especially later in the summer."
The stunning disclosure – you can read the emails in full here – raises questions over whether campaign laws were broken and why senior Trump associates failed to report a hostile act by a foreign power. With the FBI special prosecutor Bob Mueller investigating if the Trump campaign conspired with Russia during the 2016 US election, the Guardian's Luke Harding writes that the emails appear to be "the first concrete proof of collusion".
The Australian federal government is allowing land clearing in Queensland, which has has accelerated to almost 300,000 hectares each year, to destroy the habitat of threatened species and increase pollution on the Great Barrier Reef, according to analysis by WWF. The environmental charity takes aim at the Turnbull government for failing to enforce commonwealth laws intended to prevent land clearing that threatens protected species and habitats. The permissive state clearing laws have also attracted the criticism of Unesco, which noted Australia's failure to regulate clearing and found Australia's water quality targets would not be reached without further action. A full 9% of the habitat of the threatened northern hairy-nosed wombat is thought to live in has either been cleared or earmarked for clearing. Martin Taylor, protected areas and conservation science manager at WWF, said: "State laws should prevent this but the last line of defence is the commonwealth … if the federal government isn't enforcing their laws, which appears to be the case at the moment, then there is no last line of defence."
Labor has pledged to revisit a notorious tax loophole that is still being exploited by Australia's biggest private companies despite years of intense political attention on corporate tax avoidance. The shadow treasurer, Chris Bowen, has said Labor will push in this term of parliament to dramatically reduce the number of companies that can use the loophole, and says if the Senate does not support it Labor will take its plan to the election.
Japan, South Korea and Taiwan together buy 70% of Australia's export coal. Now new analysis forecasts a likely reduction in demand from those countries of up to 2% each year. The finding raises questions over the viability of new coal projects as Australia mulls the building of its biggest export thermal coal mine.
Dozens of beachgoers formed a human chain stretching almost 100 metres into the Gulf of Mexico to rescue a group of swimmers in danger of drowning after they were caught in a powerful riptide. Six members of the same family, including a grandmother who suffered a heart attack, were among nine people passed along the chain to safety at Florida's Panama City beach on Saturday evening. "It was a wave of humanity that brings some things back into focus, that maybe we haven't lost all hope in this world," said Derek Simmons, who helped to organise the spontaneous rescue, using ant chains as inspiration.
Sport
Novak Djokovic enters the quarter-finals of Wimbledon after a straight sets win but is frustrated by a decision that means he will play on consecutive days, the only men's competitor to have to do so. On Tuesday Djokovic beat Adrian Mannarino6-2, 7-6, 6-4 but was unhappy with the condition of the court, and said he should have played the night before on centre court after Gilles Müller's epic five-set defeat of Rafael Nadal. Venus Williams has also surged ahead to the semi-finals in straight sets, as has Jo Konta – the first British woman into Wimbledon semi-finals since 1978.
Queensland are depleted and NSW have a great chance to end a Maroon dynasty in tonight's State of Origin decider, but questions remain over the Blues' ability to handle pressure, writes Matt Cleary.
Thinking time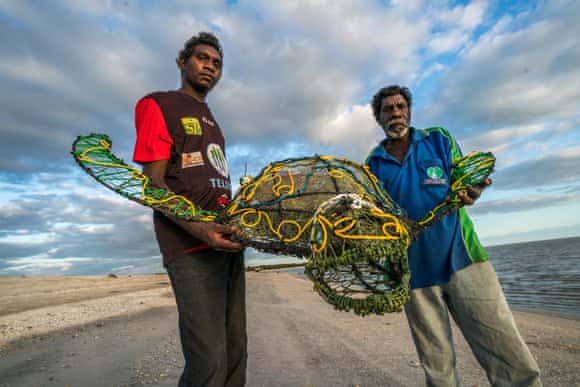 In the Aboriginal town of Pormpuraaw in Cape York locals are repurposing abandoned fishing nets and detritus from their remote seaside outpost into beautiful artworks that are sought after internationally, and creating jobs and hope for their people. "It's a very traditional theme behind the work but done in modern materials that are found and recycled," says the manager of the Pormpuraaw Art and Culture Centre, Paul Jakubowski. "I like to think the ghost net work embraces the past and the future."
The Grenfell Tower tragedy illustrates why industrial safety matters even to those who don't work in construction, writes Jeff Sparrow. The tragedy provoked a backlash against austerity and a shift towards Jeremy Corbyn as an alternative to the political mainstream. This deep global yearning for something better and fairer than the status quo hints at the possibility for a revival in trade unionism.
From magical Australian dramas to an overnight sci-fi marathon the Melbourne film festival program is out and it's a riot of cinematic splendour. Here are the 10 must-watch picks to help you streamline your festival binge, courtesy of Guardian Australia's film critic, Luke Buckmaster.
What's he done now?
Donald Trump won't visit Britain till at least 2018, the Guardian can reveal, amid claims he has been "scared off" by the possibility of widespread protests. Last month it emerged that Trump had told Theresa May in a phone call that he did not want to go ahead with a state visit to Britain until the British public supported him coming. The president said he did not want to come if there were large-scale protests.
Media roundup
The Sydney Morning Herald reveals high-rise apartment blocks up to 18 storeys and a new school could be built on top of Canterbury Park racecourse, after the NSW government said it was exploring options to rezone the site. The West Australian devotes its entire front-page to the six men found guilty of murder after killing Patrick Slater in a violent 49-second mobbing after Australia Day celebrations last year. In the Northern Territory the NT News focuses on Nine's axing of the local NT news bulletin and the loss of up to 12 jobs. The ABC says an ATO staffer published a step-by-step guide to hack mobile phones, potentially teaching criminals to steal sensitive information.
Coming up
Seven protesters who glued themselves to balcony of Parliament House in Canberra will face court today.
It has been labelled the biggest game in rugby league history. Of course that's just hyperbole, but even so, tonight's State of Origin decider promises to be big deal. Join Paul Connolly from 7.30pm AEST on the Guardian's live blog and follow every kick, pass and hit at Suncorp Stadium.
Guardian News & Media Limited - a member of Guardian Media Group PLC. Registered Office: Kings Place, 90 York Way, London, N1 9GU. Registered in England No. 908396