Morning mail: Barnaby Joyce lashes Liberal infighting
Friday: Nationals leader says internal debates among Coalition colleagues are alienating support in the bush. Plus, Liu Xiaobo, 61, dies under guard in China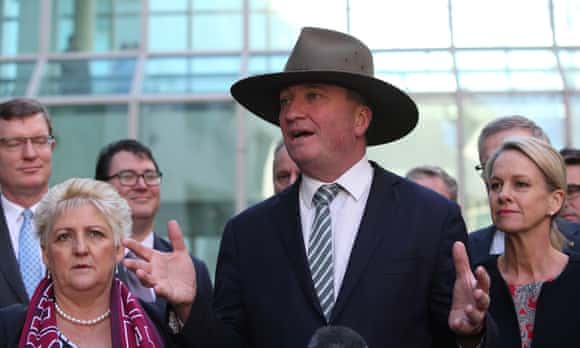 Eleanor Ainge Roy
---
Good morning, this is Eleanor Ainge Roy bringing you the main stories and must-reads on Friday 14 July.
Top stories
Barnaby Joyce has unloaded on his Liberal colleagues in Canberra, saying constant infighting is driving disaffected voters to One Nation. In an exclusive interview with Guardian Australia, the deputy prime minister and Nationals leader said many voters saw the government as a "philosophers' club" rather than people concerned with improving living standards and creating jobs. Joyce also said a renewed debate within the Coalition about marriage equality would aggravate voters even further, and the government needed to stick by its policy of a plebiscite. Voters would be furious if they were not given a say on an issue that remained divisive in some communities, he said.
"You are arguing about Menzies' view on conservatism, you are having a debate about international agreements and renewable energy targets which, I in Smith Street, Jonesville, don't get, and now, the last thing needed to solve all this is talking about changing the definition of marriage." Joyce said. "[The Liberal party] needs to concentrate on things that actually matter."
The Nobel laureate and political prisoner Liu Xiaobo has died in custody, aged 61. Liu campaigned for democratic rights and political freedom in China, and spent more than a quarter of his life behind bars. China faced a barrage of criticism for its treatment of the peaceful protester, with his death sparking an immediate outpouring of international mourning and condemnation. The leader of the Norwegian Nobel committee said the Chinese government bore a heavy responsibility for the death as it had not allowed Liu to travel overseas for cancer treatment. Liu came to prominence after the 1989 Tiananmen Square massacre, and continued an extraordinary relationship with his second wife, Liu Xia, despite the state's persecution.
The former Australian prime minister John Howard has said he does not believe Donald Trump is a racist, while warning against a "rush to condemn" the US president. "I think people who are writing him off now are foolish," Howard said in Sydney on Thursday evening. "And a lot of people who are doing that still can't accept that they lost."
South Australia has urged the New South Wales Coalition government to join Labor states in formulating their own clean energy target if the federal government cannot resolve its internal brawl about the Finkel review. Energy ministers will meet on Friday, and the SA energy minister, Tom Koutsantonis, said NSW was particularly exposed by the policy vacuum and could face power shortages this summer. The federal energy minister, Josh Frydenberg, said the haste from the Labor states was unreasonable, given that Canberra had adopted most of the recommendations of the Finkel report in a matter of weeks.
Environmental activists are being killed in record numbers around the globe, averaging about four a week. Two hundred environmental activists, wildlife rangers and indigenous leaders trying to protect their land were killed in 2016, according to the watchdog group Global Witness – more than double the number killed five years ago. And the frequency of killings is only increasing. According to data provided exclusively to the Guardian, 98 environmental defenders were killed in the first five months of this year. John Knox, UN special rapporteur on human rights and the environment, said: "There is an epidemic now, a culture of impunity, a sense that anyone can kill environmental defenders without repercussions, eliminate anyone who stands in the way. It [comes from] mining, agribusiness, illegal logging and dam building."
Sport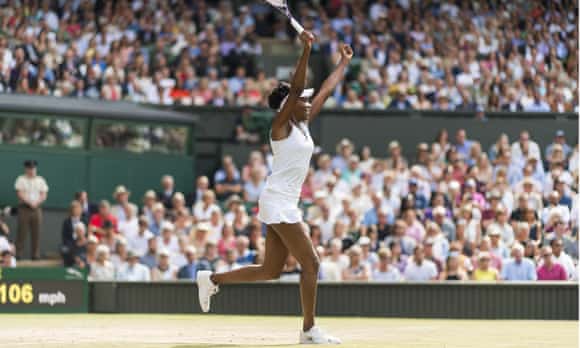 Venus Williams has catapulted into Wimbledon's women's final, beating Britain's hope Johanna Konta 6-4, 6-2 in the semi-final. This will be Williams' ninth Wimbledon final and at 37 she is the oldest contender since Martina Navratilova in 1994. In Saturday's final she will meet Garbiñe Muguruza, who thrashed Magdalena Rybarikova 6-1, 6-1.
With the axe still hanging over the Melbourne Rebels and Western Force, why not move one of the threatened Super Rugby franchises to Japan? It's a radical idea, but one that should at least be given consideration before the clubs are written off, writes Bret Harris.
Thinking time
The 1930s was a time of rapid modernisation in Australia, with construction and engineering feats such as the Sydney Harbour Bridge butting up against the political and social upheaval of the Great Depression and the second world war. A new exhibition at NGV Australia, Brave New World: Australia 1930s, highlights how Australian artists and designers captured this moment in history. The exhibition includes works by Arthur Boyd, Albert Tucker, Grace Cossington Smith, Max Dupain and Albert Namatjira.
The Americanisation of English has become so widespread that its reach is even felt within the UK and Australia. Perhaps that cultural shift is no surprise, but a new study documents the speed at which the English language has shifted across the world. The Fall of the Empire: The Americanization of English analysed 15m digitised books published between 1800 and 2010, as well as more than 30m geolocated tweets, to look at language differences.
From Agamemnon and Caligula to Macbeth, the canon of classical literature heaves with explicit narrative warnings for princelings like Donald Trump Jr about the abuse of power and the destructive inevitability of believing oneself invincible. Although in democracies, depositions are rarely as bloody as those in the classics, the Trumps may want to note that they can be swift and just as final, writes Van Badham.
What's he done now?
Donald Trump has arrived in France, making a gushing show of friendship and the handshake saga continues. First there was an over-long, tense-looking clasp between Trump and the French president, Emmanuel Macron. Then, if that wasn't cringeworthy enough, Trump and Brigitte Macron fumbled to clasp hands, and then Brigitte appeared to pull away, but Trump held steadfast to her right hand, drawing it to him. Really – a bear hug might be a safer at this point. Full points to Melania, who looked graceful and at ease.
Media roundup
The NT News splashes with a special investigation, revealing 5% of Territory students were suspended last year, including one in three at the Centralian Middle School in Alice Springs. The ABC and the Australian report on the extradition of alleged people smuggler Ahmad Zia Alizadah, an Afghan national who was extradited from Indonesia late yesterday. He stands accused of smuggling more than 200 asylum seekers on boats from Indonesia and taking more than US$2m from them.

Coming up
The federal energy minister, Josh Frydenberg, is meeting his state and territory counterparts in Brisbane to discuss the Finkel review.
A man is due to face court in Melbourne accused of fatally punching heart surgeon Patrick Pritzwald-Stegmann at a Melbourne hospital in May. Pritzwald-Stegmann, a cardiothoracic surgeon and father of two, died almost four weeks after the attack at the hospital where he worked. He was allegedly punched at the Box Hill hospital entrance after he asked someone to stop smoking. Joseph Esmaili, 22, was arrested in relation to the attack.
Support the Guardian
It might take a minute to catch up on the news, but good journalism takes time and money. If you already support Guardian Australia, your generosity is invaluable. If not, and you value what we do, please become a Supporter today. Thanks.
Guardian News & Media Limited - a member of Guardian Media Group PLC. Registered Office: Kings Place, 90 York Way, London, N1 9GU. Registered in England No. 908396